Discover Free Books That You'll Love!
Receive unbeatable eBook deals in your favorite fiction or non-fiction genres. Our daily emails are packed with new and bestselling authors you will love!








What makes libraries so special?
Books are considered among humankind's most precious objects - both as works of art and keepers of knowledge. So, it's little wonder that libraries are included in the world's most beautiful buildings.
Libraries were once the private realm of religious scholars and the very rich. Happily, these days libraries are open to everyone. They are a place where you can not only borrow books, but attend a community event or use a computer.
The one thing that has stayed the same is the grand vision that goes into designing libraries. From medieval monasteries to soaring glass towers, be prepared for this list to give you serious library envy. Here are 10 amazing libraries you'll be desperate to visit.
Gladstone's Library, Wales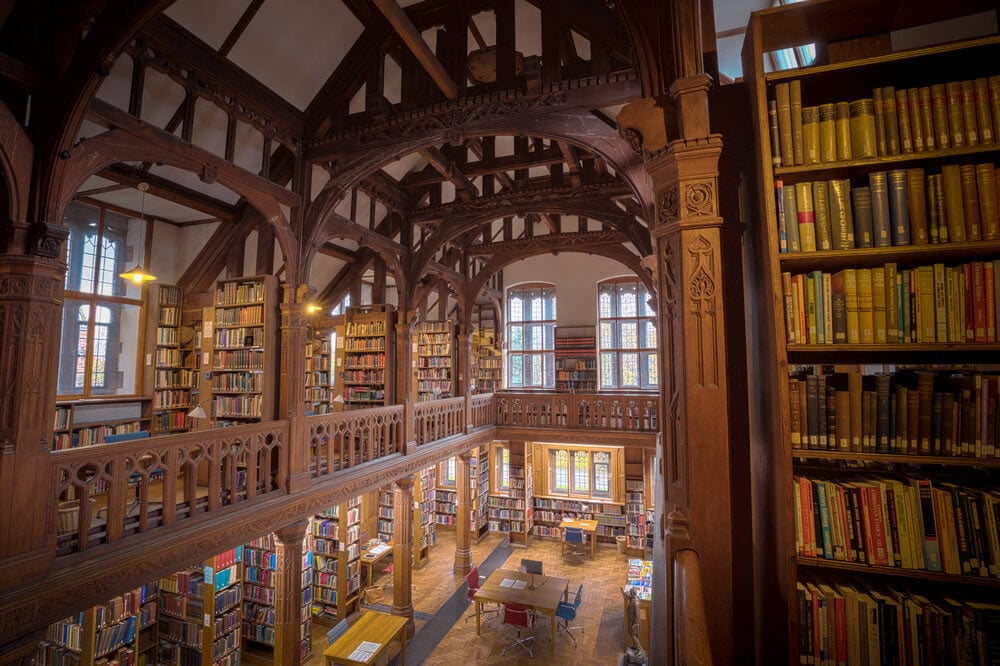 Gladstone's Library
Photo credit: Michael D Beckwith
With its vaulted ceilings and stained-glass windows, this gothic library would be the perfect place to reread Wuthering Heights. This library is open to the public but they keep the reading rooms strictly silent, which makes it a great place to work or study. Staff members say that more than 300 books have been written here in the last decade.
If this sounds like heaven, you can take it one step further and book a room for the night. The library has 26 bedrooms and staying guests are allowed to take books back to their bedroom. With 150,000 books and manuscripts available, you'll have no shortage of bedtime reading.
Wells Cathedral, England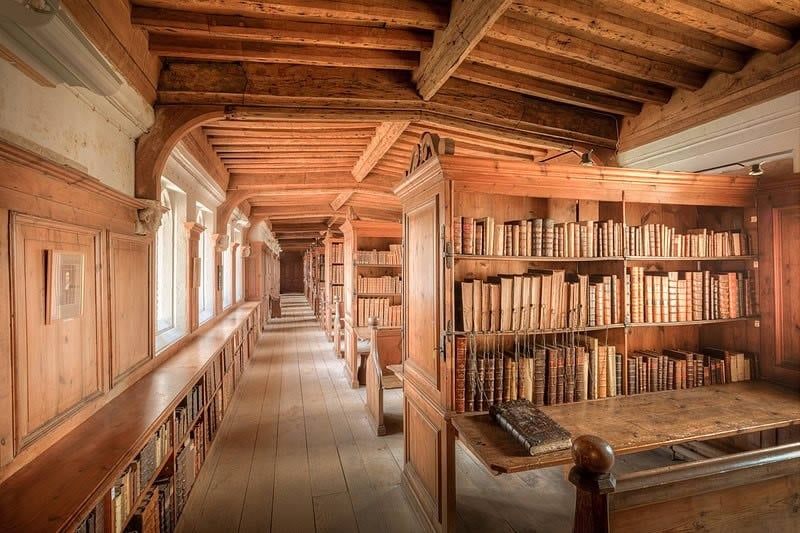 Wells Cathedral Library
Photo credit: Michael D Beckwith
Opened in the 1450s, this medieval library was built next to the cathedral. It houses many rare and valuable books, gathered by priests over the centuries. The collection includes the earliest atlas of the world published in 1606, and a set of Aristotle's works published in 1497.
The public are allowed to visit as part of a public tour. Adding to the charm, the library is located at the top of a stone spiral staircase. Because the books are so valuable, each book is chained to the bookshelf. This was a tradition started in the Middle Ages and it's one of only a few chained libraries left in England.
George Peabody Library, United States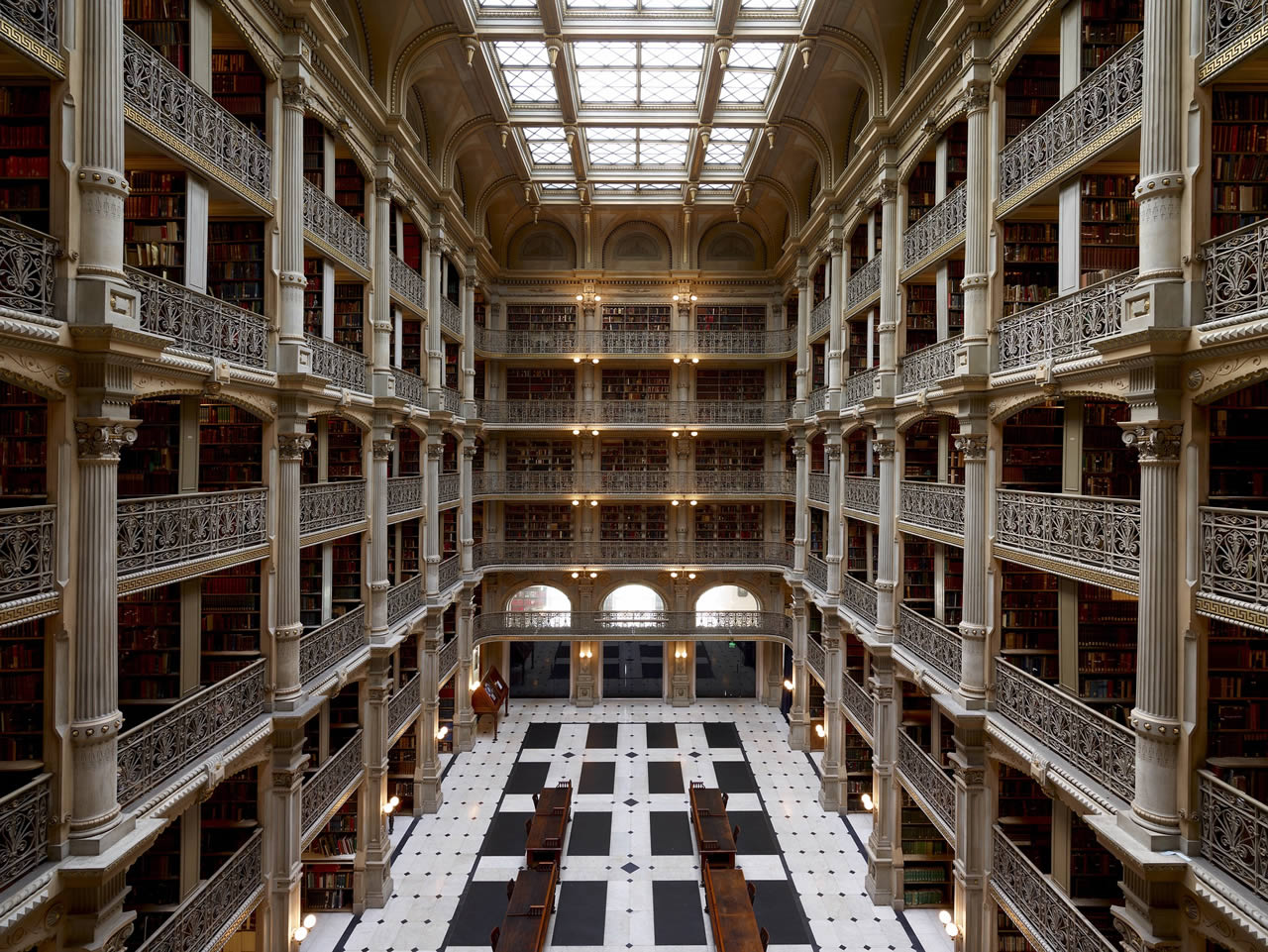 The gorgeous atrium of the George Peabody Library
Photo credit: Falkenpost via
Pixabay
Built during the American Civil War and opened in 1878, this amazing library is regularly named as one of the most beautiful libraries in the world. Founder George Peabody wanted the public to have access to the best literature and the most up to date scientific books.
George Peabody Library
Photo credit: Falkenpost via
Pixabay
The magnificent atrium has a huge skylight overlooking five tiers of cast iron balconies, and true bibliophiles will be elated to find out this space can be rented for your dream wedding. But there's more to the library than architectural treasures. A Rare Books Room houses books printed before 1700, including books on witchcraft, insect discoveries, and manuscripts by Shakespeare.
Admont Abbey, Austria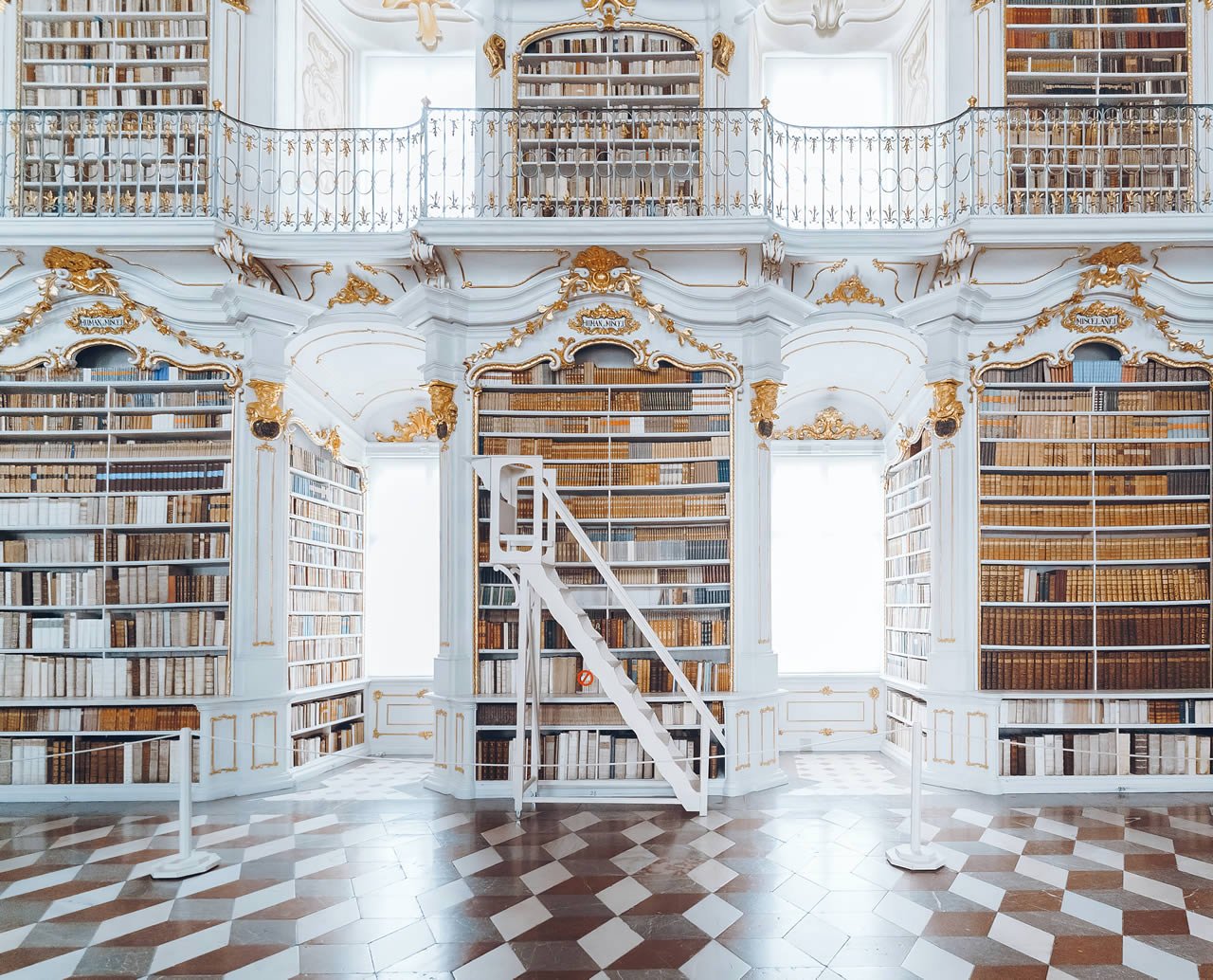 The beautiful bookshelves of the Admont Abbey Library
Photo credit: Valdemaras D. on Unsplash / Jorge Royan CC-BY-SA-3.0
Contemplate the answers to life's big questions while lingering in this stunning Baroque style library. Admont Abbey is home to the world's largest monastic library, although there's nothing modest about it. This library was founded by Benedictine monks in 1776. Inspired by the Enlightenment, the large windows fill the library with light to symbolize knowledge.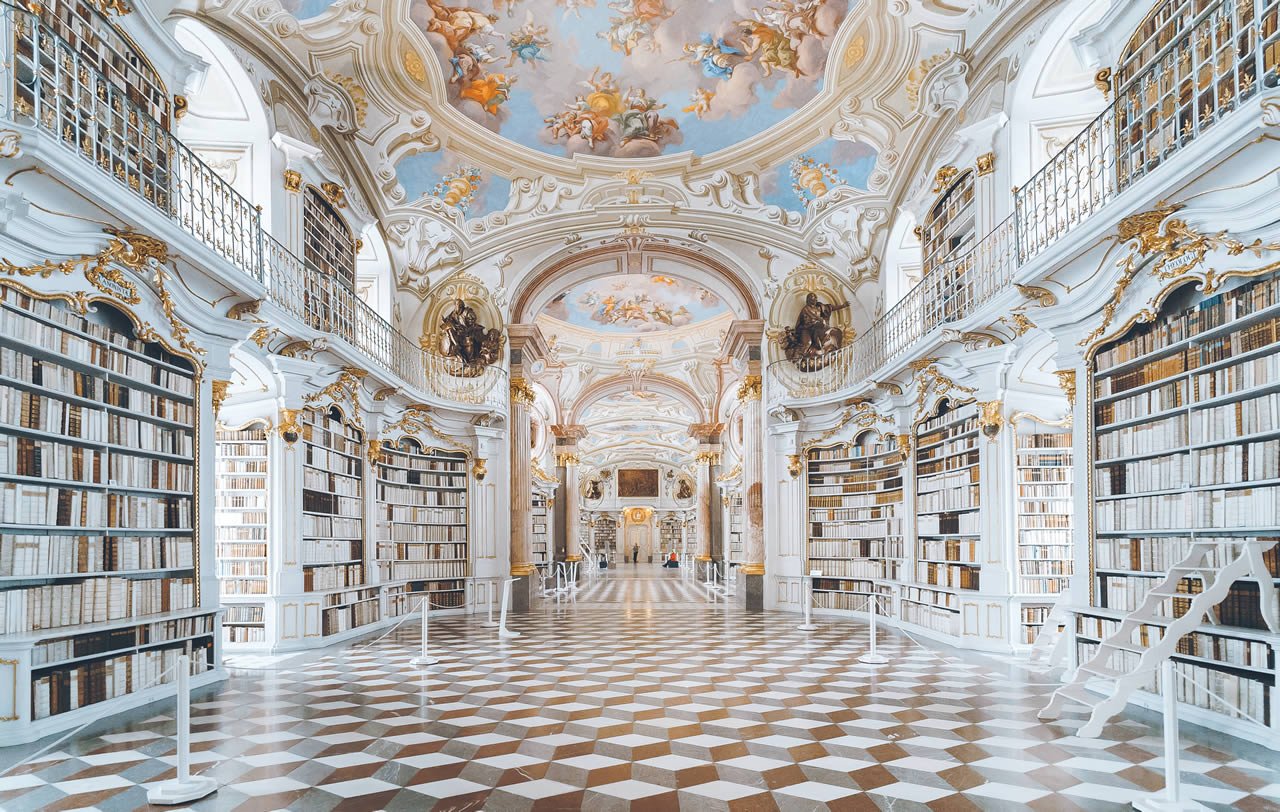 Looking down the main hall of Admont Abbey Library
Photo credit: Valdemaras D. on Unsplash / Jorge Royan CC-BY-SA-3.0
Besides rare books, including early editions of the Bible, the abbey is also filled with art and sculptures. Visitors will be utterly dazzled by the gold brocade and colorful ceiling frescoes.
Duke Humfrey's Library, England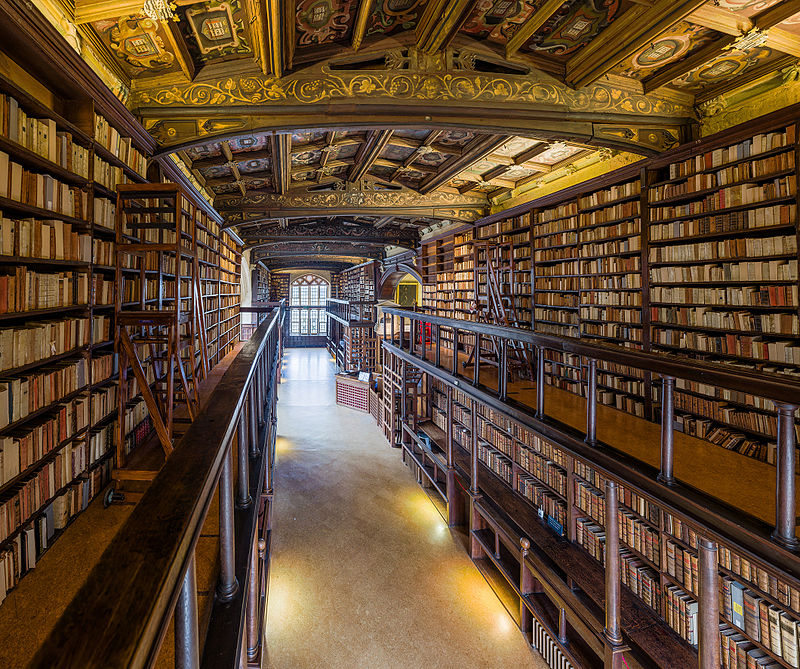 Duke Humfrey's Library
Photo credit: Photo by David Iliff. License: CC BY-SA 3.0
Oxford university has been a renowned place of knowledge since the 12th century, and this is the oldest library at the university. At the time it was established, books were all handwritten and thus extremely valuable. It was named after the Duke of Gloucester, in recognition of his donation of almost 300 books to the university in 1447.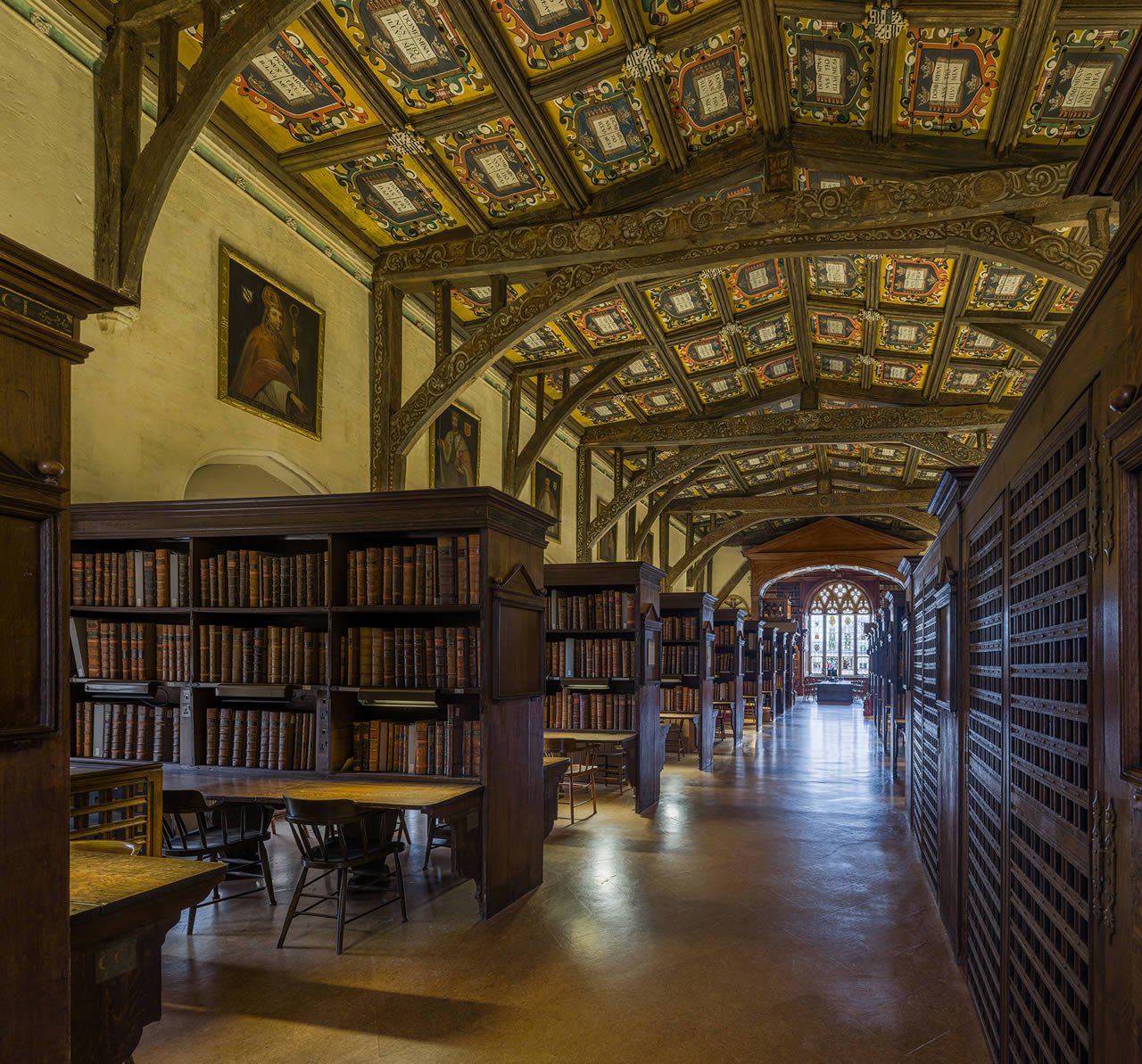 Duke Humfrey's Library
Photo credit: Photo by David Iliff. License: CC BY-SA 3.0
This gorgeous library houses incredibly rare parchments, manuscripts, and medieval books on its oak shelves. If it seems like something out of a movie, that's because it was the setting for Hogwarts library in the Harry Potter films. Take a private tour and discover the magic for yourself.
Yusuhara Community Library, Japan
Yusuhara Community Library
Photo credit: Olivia Ho
This beautiful library masterfully blends the old and the new. The architects behind this design wanted to make a visit to this library feel like strolling through a forest. The cathedral-like ceilings and warm timbers are sure to make you feel in touch with nature and a little awe-inspired.
When visiting this library, follow Japanese tradition and take off your shoes. Let your feet feel the natural cedar floors, and feel yourself relax. Designed as a space where young and old can meet and feel comfortable, it has space for kids to play while parents browse books.
Stuttgart Library, Germany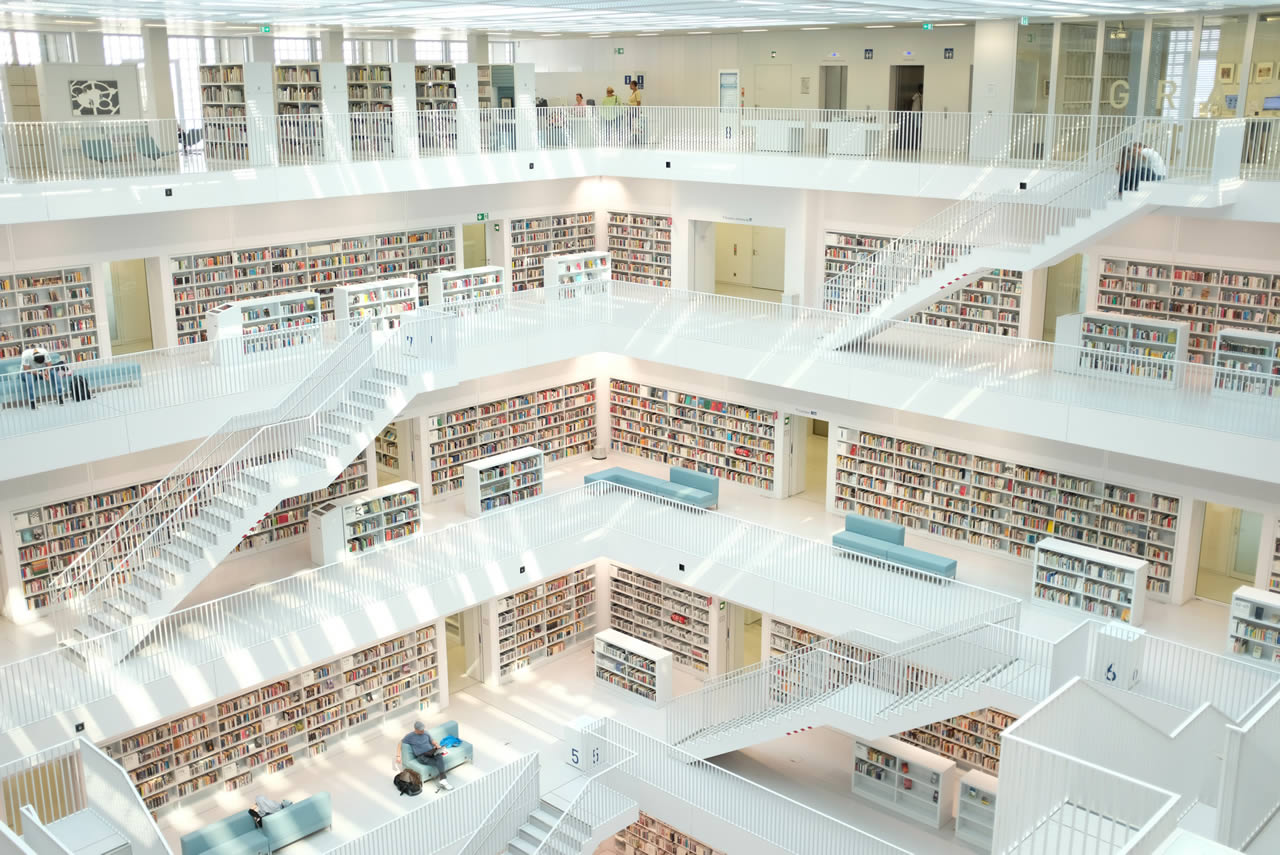 Stuttgart Library
Photo credit: Amelie & Niklas Ohlrogge on Unsplash
At first glance, this austere and brutalist design seems incompatible with a library. Yet it has been praised for its peaceful and calming atmosphere. Designed to be a central point of the town, this pristine sanctuary was opened in 2011. Visitors flock here to experience the architecture. Grab an audio guide from the front desk when you arrive and tour the building yourself.
Inside the entrance, a single pool of water immediately sets the contemplative tone. The Reading Room is famous for its inverted pyramid shape, with five levels of snow white staircases. At night the outside is lit up in blue, making it resemble an ice cube.
Calgary Library, Canada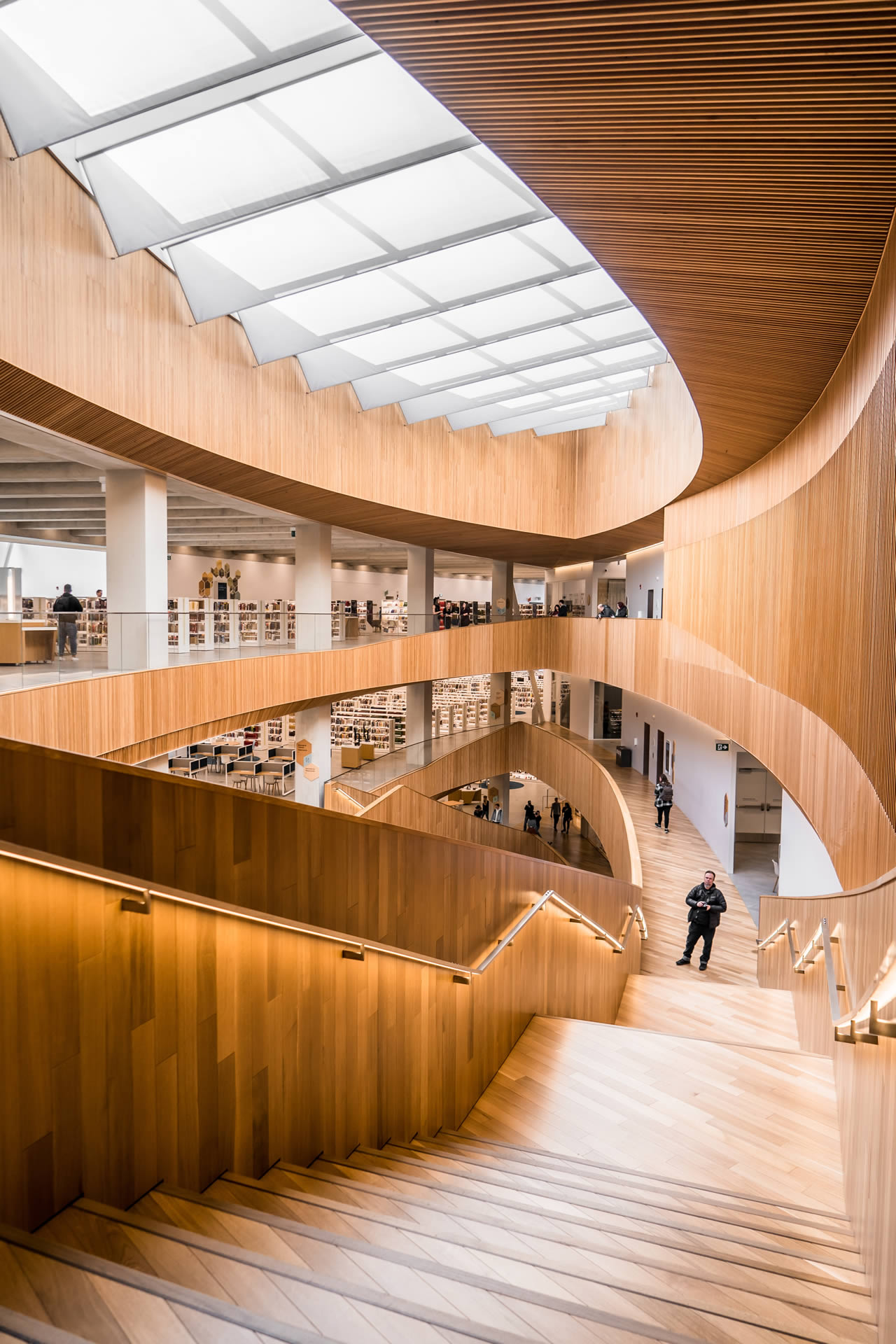 Calgary Library
Photo credit: Jay H on Unsplash
This amazing place shows what can be done with modern libraries. The striking interior has been designed from local red cedar and Indigenous art and sculpture is featured all the way through.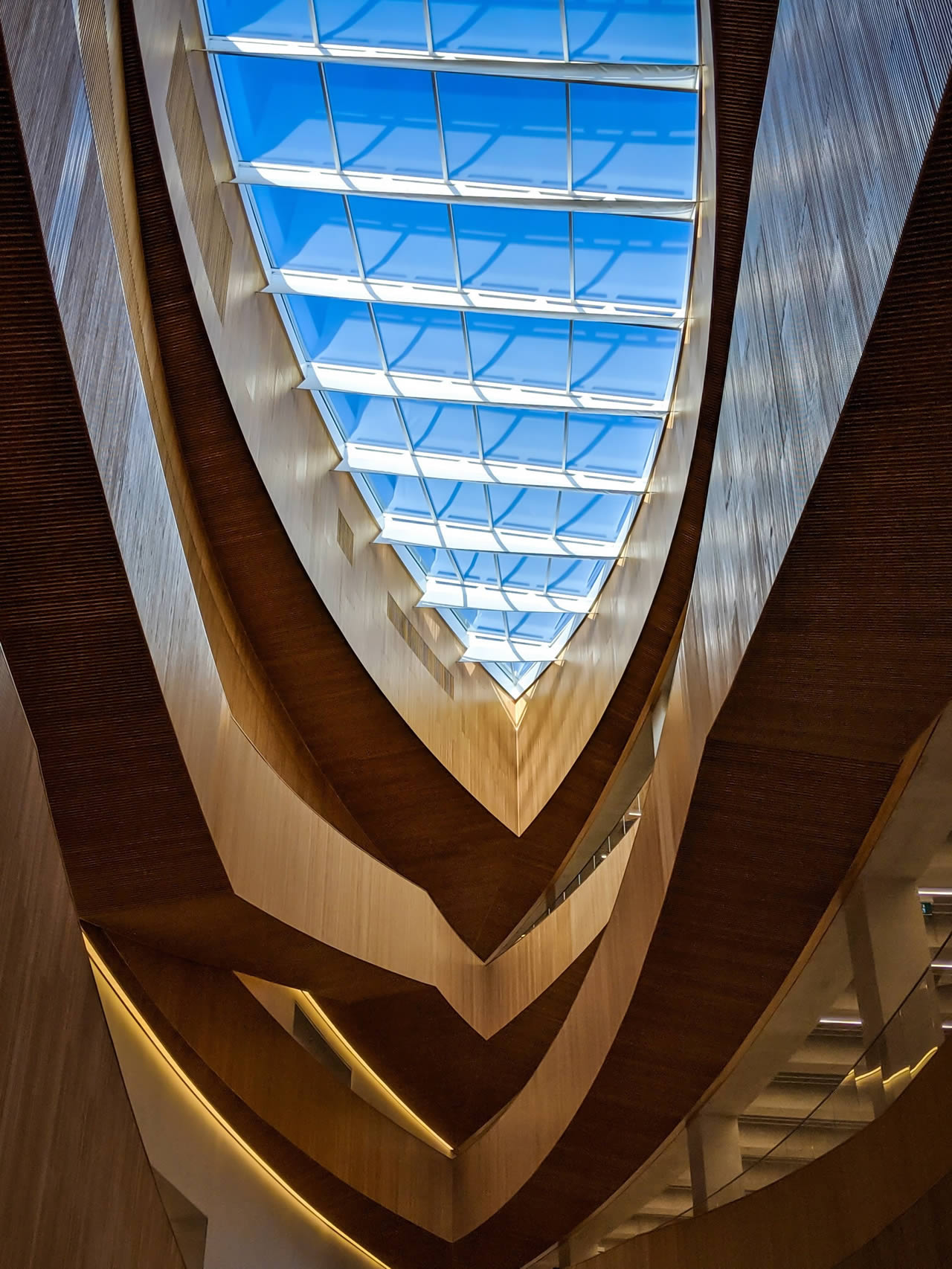 Calgary Library
Photo credit: bantersnaps on Unsplash
It knows what its members want, and offers a recording studio where you can make your podcast or youtube video; a lending library for chrome books, so that those without access to computers can take one home; and a children's library with an early learning centre where kids can play. The result is a relaxing, useful and vibrant place that makes a real contribution to the city.
Geelong Library, Australia
Known as The Dome, this gorgeous glass and geodesic tiles exterior has become an instant icon. So much so that its innovative design was nominated for an international Library of the Year Award.
This ultramodern library embraces new technology and encourages the public to use it as a place to meet and mingle. Members can use a computer, hook their phone into the free wifi or borrow music and movies. There are five levels, with a dedicated children's floor and another floor allocated to historical research where you can browse local archives or investigate your family tree.
Street Library, Australia
Libraries don't have to be large. Some of the best libraries can be found on footpaths or next to someone's fence. The idea behind Street Libraries is that anyone can drop books off and pick books up. There's no library card, you just take what you want to read and leave books you're finished with. These libraries have been popping up all over the place, with councils in Australia embracing them. This library in Yarraville, Victoria has a mix of adults and kids books and is bright and colorful, inviting passer-bys to stop and browse.