Five of the Best New Children's Books (and Five All-Time Classics)
Published: 1 May 2022
Written by Chris Beach
Extraordinary children's books are being written every year. It's exciting to discover quality books that reflect the diverse cultures and families that make up our world today. These books touch on themes such as identity, the environment and belonging in a way that young children can relate to. Below you'll find some of the best new release children's books.
Please note that Books.org participates in the Amazon Services LLC Associates Program. This means that when you click on our links to Amazon.com and make a purchase, we may receive a small commission at no extra cost to you. This helps us continue to provide high-quality book recommendations and reviews. We truly appreciate your support!
New Release Children's Books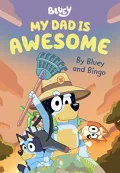 My Dad is Awesome
by Bluey and Bingo
The ABC show Bluey broke new ground by portraying a dad who loves to play with his kids. Bandit is capable of taking the kids to school and getting the washing up done, while supporting his kids through their ups and downs. This book is a tribute to great dads everywhere. Written from the perspectives of six-year-old Bluey and her sister Bingo, they tell us all the reasons why their dad is awesome. For ages 2 and up.

Aunty's Wedding
by Miranda Tapsell and Joshua Tyler, illustrated by Samantha Campbell (Fry)
From the writers of the hit Australian movie Top End Wedding comes a story about a Tiwi Island girl preparing for her Aunty's wedding. She's excited to get dressed up with her Grandma but she'll need a little help to understand what a wedding is all about. This lovely picture book celebrates family, culture and love. For ages 3-6.

Freedom, We Sing
by Amyra Leon and illustrated by Molly Mendoza
This is a powerful book that explores what freedom means. "Is it a place? Is it a thought? Can it be stolen? Can it be bought?" Through conversations with a mother and her young daughter, this beautifully illustrated book discusses the ways in which people all over the world are finding ways to live freely and be themselves. Based on the poem by Amyra León, it is a book about hope. During times when there are no easy answers, this book reminds us of all the beauty in the world and invites us to stay grounded as we face whatever comes next. For ages 4 and up.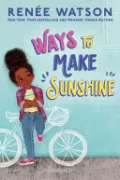 Ways to Make Sunshine
by Renée Watson
Ryan lives with her parents and brother in Portland, US. She's a good cook, a kind friend and she knows how to stand up for herself. But when Ryan's dad loses his job, things start to change. Her family has to sell their car and move into a smaller house. On top of that, Ryan has to deal with her annoying older brother and the pressures of the fourth grade. But she knows how to make the best out of a bad situation. This is the relatable story of a Black girl growing up and dealing well with pressures of identity and facing the world with optimism. For ages 6 and up.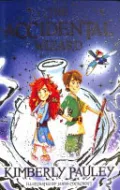 The Accidental Wizard
by Kimberly Pauley, illustrated by Jason Cockcroft
Twig is realising that being a wizard's apprentice is not all it's cracked up to be. The great wizard Ripplemintz makes a lot of blunders. As his only apprentice, Twig is forced to clean up the mess. When Ripplemintz's latest spell gets loose, Twig is sent to catch it. But this time he makes a blunder of his own and the spell ends up inside Twig. What will happen next? Readers of Terry Prachett will love this boisterous fantasy. For ages 9 and up.
Classic Children's Books
These ageless books are ones you've probably loved since childhood and now are lucky enough to read to your own children. With their beautiful illustrations and simple expression, parents won't mind reading them over and over again. There are so many great books for children that this list could be endless, but we've narrowed it down to five we love. How many of them have you read?
Possum Magic
by Mem Fox and illustrated by Julie Vivas
Grandma Poss and Hush live in the Australian bush, along with their wombat, kangaroo and emu friends. But when Grandma Poss accidentally makes Hush invisible, the two set off around Australia to find the missing ingredient which will break the spell. They eat their way through Anzac biscuits in Adelaide and Minties in Melbourne, but it's not until they get to Darwin that they find the missing ingredient. Through the eyes of these two possums, you'll discover the charm of Australia's cities and the magic of a vegemite sandwich. For ages 3 and up.

Brown Bear, Brown Bear, What Do You See?
By Bill Martin Jr. and illustrated by Eric Carle
Any preschooler will tell you this book is firmly at the top of their list of favourites. The simple illustrations from Eric Carle are captivating. The lyrical pattern throughout the book helps toddlers to remember and repeat the words. "Blue Horse, Blue Horse, What do you see? I see a green frog looking at me." This wonderful book will help your child learn how to recognise different animals and name all the colours. It's also a perfect book for children who are just starting to read. For ages 1 and up.

Where the Wild Things Are
by Maurice Sendak
Possibly the best loved children's book of all time. When Max is naughty he is sent to his room without dinner, then sails away to the land where the Wild Things are. With their gnashing teeth and stomping feet, the Wild Things are pretty scary. But none of them are a match for Max's piercing stare. Without parents around they can all be as beastly as they want. But even Wild Things can get lonely and Max starts to think that maybe home isn't so bad after all. The beautiful illustrations bring to life the free spirit and imagination that lives inside all children. For ages 3 and up.

My Place
by Nadia Wheatley and illustrated by Donna Rawlins
Have you ever wondered who lived in your house before you did? This wonderful book lets you glimpse into the past and see what Australia was like many generations ago. It tells the story of 21 children who have lived on one piece of land in the middle of Sydney from 1788 until 1988. Go back in time and discover how family life, dress and customs have changed throughout the decades. Use this book to teach children about the traditional owners of the land, and the people from many cultures who live in Australia today. For ages 5-11.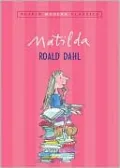 Matilda
by Roald Dahl
Matilda is a gifted child who loves to learn. But she is neglected by her parents and tormented by her school principal. The only one who recognises her talents is her kind teacher, Miss Honey. Matilda takes revenge by playing practical jokes on the bullies in her life. She's too smart to get caught but will she get her happy ending? Roald Dahl's genius is that he takes children's inner lives seriously. This story will connect with every kid who has ever felt ignored. For ages 8 and up.
Discover Free Books That You'll Love!
Receive unbeatable book deals in your favorite fiction or non-fiction genres. Our daily emails are packed with new and bestselling authors you will love!








Latest Articles
The Best Books About Learning Chess
How Often Should You Read?
The Cork O'Connor Books in Order
Deal-icious Reads: The Best Books Like 'The Deal'
Our Comprehensive Guide to Chanel Cleeton Books in Order
The Best Historical Lesbian Romance Novels
Your Guide to Elizabeth George Books in Order
Our Curated List of the Best Books About Genealogy
Our Guide to the Best Fated Mate Romance Books
Our Complete List of Sally Rigby Books in Order