Our Curated List of the Best Books About Genealogy
Published: 7 August 2023
Written by Chris Beach
Hello there, passionate seekers of ancestral connections! It's an absolute thrill to dive into the labyrinth of time, peeling back the layers of years, and discovering the stories that have shaped our familial identities. As we unravel the threads of our past, from the whispers of census records to the scientific marvel of advanced genetic genealogy, the sheer joy of understanding our lineage can be truly transformative. And what better compass to guide us through this exciting voyage than the best books about genealogy?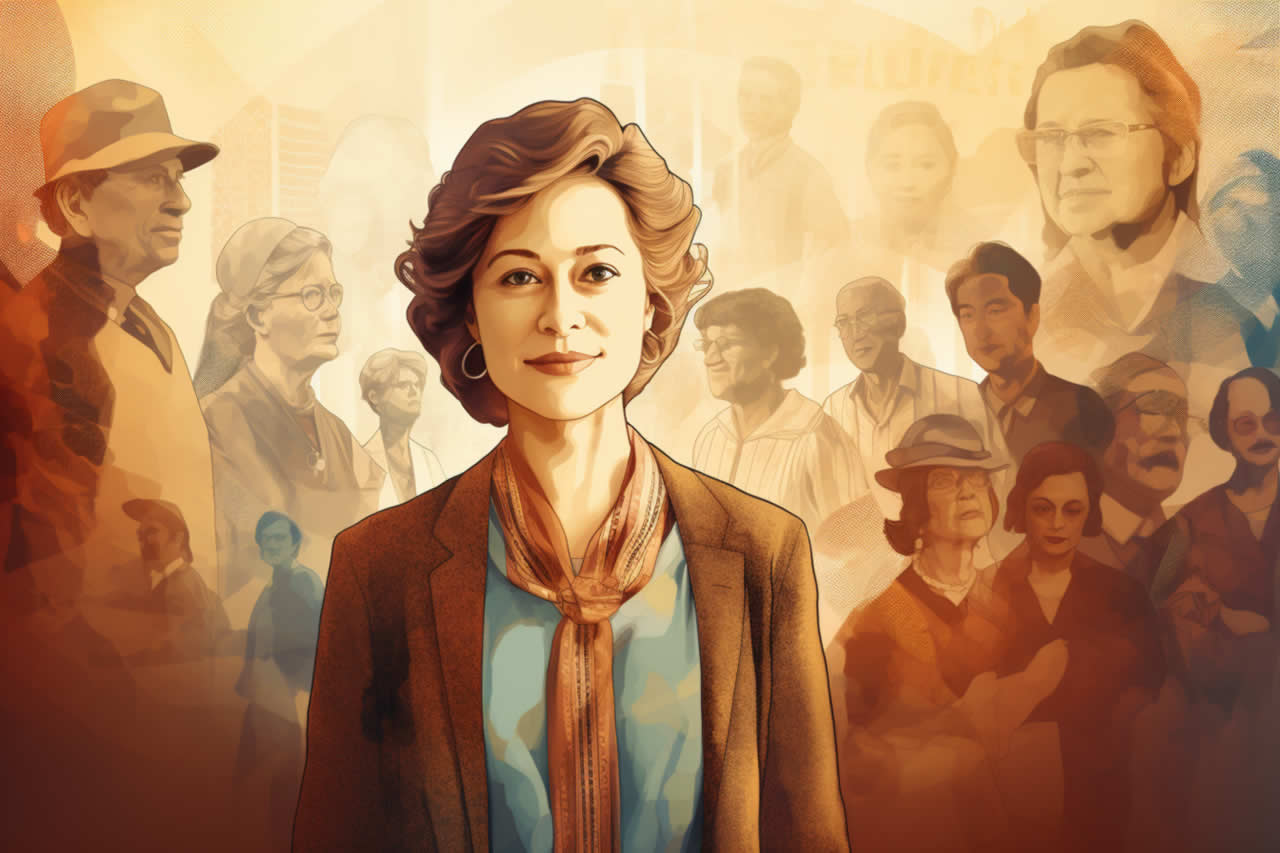 Please note that Books.org participates in the Amazon Services LLC Associates Program. This means that when you click on our links to Amazon.com and make a purchase, we may receive a small commission at no extra cost to you. This helps us continue to provide high-quality book recommendations and reviews. We truly appreciate your support!
Picture each of these genealogy books as a seasoned guide, helping you navigate through the wilderness of the past. They serve as the torchlight in our exploration, lighting up the path for both the novices and seasoned family historians. Think of the adrenaline rush as you link missing pieces in your lineage, or the sense of wonder when you unravel a tale long lost to time - these volumes of wisdom transform family research into an enthralling saga of discovery. So, shall we set sail and explore these written treasures?
The Genealogy Book List
The Family Tree Guide to DNA Testing and Genetic Genealogy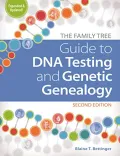 by Blaine T. Bettinger
Unveil the hidden secrets of your lineage with today's most technologically advanced tool. This easily decipherable, up-to-date resource divulges all details about the varied DNA tests you can take and their associated pros and cons from leading test providers. More importantly, it provides guidance on opting for an appropriate test tailored to fulfill specific genealogical queries. The results of a DNA test can be daunting, but this guidebook empowers you to tackle complicated results systematically revealing tips on comprehending ethnicity proportions, handling potential relative matches, and utilizing third-party tools like GEDmatch for deeper data analysis.
Adding to this guide are compelling diagrams which explain complex DNA terminologies such as haplogroups and genetic inheritance mechanisms alongside comprehensive reviews of different types of DNA tests with practical cases highlighting their usability. It equips you with additional analytical resources once initial results are processed, plus comparative charts and research forms aiding in picking effectively amongst various tests while maintaining result organization. Especially noteworthy is its focus on how individuals having scant knowledge of their heritage including adoptees could derive rich insights from DNA testing.
Regardless whether you're a novice or have ventured into exhaustive DNA testing across major suppliers already, this compact manual will equip you with essential strategies to decode your genomic blueprint thereby unmasking fascinating revelations about your ancestral roots.
Family Tree Problem Solver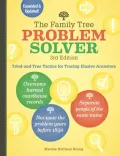 by Marsha Hoffman Rising
If you've found yourself in a genealogical conundrum, unable to unearth your family's past due to roadblocks like missing or destroyed records, this insightful guide can be of great assistance. It provides innovative alternatives for such situations and also offers techniques on hunting down ancestors with common names, which often prove elusive in the maze of historical data. Additionally, it steers you towards pre-civil registration era vital records, interpreting genetic test results effectively and locating those mysteriously absent from census entries. Furthermore if you are tracking forebears who lived prior to 1850 - an epoch that poses its unique set of challenges - this handbook shares useful methods too. There's guidance on how best to dissect your research problems before devising a feasible investigation plan as well as fresh insight into understanding record hints provided by certain DNA companies. The book doesn't fall short in explaining complex genealogical jargon either; its glossary makes sure of that! And adding much-needed context are case studies demonstrating practical application of these problem-solving strategies.
Evidence Explained: Citing History Sources from Artifacts to Cyberspace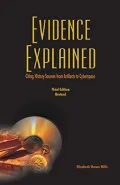 by Elizabeth Shown Mills
As an unmissable resource in the realm of historical investigation, "Evidence Explained" leaves no stone unturned when it comes to citing and analyzing ancestral sources. Despite a wealth of online portals offering identification tips for their resources, few tackle the complex analysis required for web content - it's ever-changing presence impacts its reliability.
Just two years after launching its third edition, this guide has undergone another revision due to significant changes at repositories and trends in digital data sharing. This resulted in new challenges which needed addressing by introducing updated citation models along with fresh descriptions and evaluations of modern material that wasn't included initially.
Revisions are evident on approximately 75 pages; including updates to respective indexes. The National Archives (NARA) website now features renewed citations as well as methods to identify documents correctly. Moreover, there have been modifications made for referencing DAR's newly overhauled website and databases. Noteworthy also are immigration citations which reflect record alterations on the Ellis Island site.
The Researcher's Guide to American Genealogy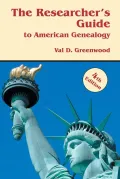 by Val D. Greenwood
Standing as the beacon of tried-and-true knowledge within genealogical research, this book is a veritable bible for those delving into their family's past. It educates its readers not just in enduring methodologies of lineage tracing but also brings attention to new categories of records and current tools that aid researchers. Serving dual roles - both an educational text and reference guide - it equips modern-day explorers of ancestry with the ability to fully leverage all resources at their disposal. Its fourth iteration presents a thorough, up-to-the-minute exploration of American genealogy; without which any quest for one's roots would be incomplete.
Its newest edition has seen significant revamp incorporating cutting-edge principles, developments and other essentials relevant to excavating your familial history. Technological impact on research now commands two dedicated chapters - one breaking ground on understanding related notions and terminologies while the other serves as a directory guiding you through key ancestry websites and digital resources. Furthermore, every chapter nudges you toward pertinent online portals matching each topic discussed therein.
Organize Your Genealogy: Strategies and Solutions for Every Researcher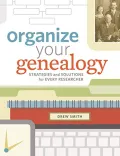 by Drew Smith
Embarking on a genealogy research journey can often seem daunting, but the right strategies and tools can make this task manageable. This book guides the reader through creating an effective plan to optimize their research efficiency. It emphasizes using both traditional methods and modern digital technologies in organizing one's workspace, resources, time, data files and findings related to family history. Furthermore, it instructs on how to set realistic goals and objectives alongside framing practical research questions.
The book also helps readers devise systems for arranging both physical papers as well as electronic documents while keeping track of correspondence - whether offline or online. The preparation required before setting out on a physical research trip is also covered intricately. In order to promote skill-building throughout this process, step-wise plans are provided.
The book doesn't just provide guidance; it equips readers with secrets that foster organizational habits leading to better productivity during research hours.
It provides suggestions for suitable workspaces - real-life or virtual- ideal for conducting such intense studies. Moreover, tips on efficiently managing different projects and achieving set goals are shared along with recommendations about the best tools which facilitate every aspect of ancestry search.
To ensure easy utilization of proposed strategies by all - beginners venturing into genealogical studies or seasoned researchers seeking improvements - multiple checklists were made available in addition to worksheets that help apply insights from the guide effectively across various aspects involved in uncovering one's ancestry.
Advanced Genealogy Research Techniques

by George G. Morgan
Here's a gem of a guide for those entrenched in the mystery and thrill of tracing back their family tree, but finding themselves stalled by seemingly insurmountable obstacles. This book is filled to the brim with practical advice on how to crack even the toughest genealogical puzzles using modern resources and tools without skipping any detail. Delve deeper into your ancestral roadblocks, scrutinizing them closely for cracks you can wriggle through. Employ exhaustive research methods that don't leave out any potential sources of information.
This book encourages not only utilizing technology like specialized software programs or DNA testing but also considering original records over derivative ones. Remember: every stone unturned could be hiding an elusive ancestor! Engage with your 'FAN' club - Family, Associates, Neighbors - who shared lives with your hard-to-track predecessor while also reaching out to more contemporary networks; get fresh insight from friends or coworkers and even rely on crowdsourcing via online communities such as forums or social media platforms dedicated to ancestry.
If all else fails, there are tips available about employing professional researchers - just make sure they have right credentials and references. But before doing so, take another shot at analyzing your evidence after refreshing your approach based on these new techniques discussed here and objectively reviewing your prior investigations - documented meticulously per recommended practices - for overlooked clues. After all, Sherlock Holmes always revisits his cases too!
Research Like a Pro: A Genealogist's Guide

by Diana Elder
Feel like you're spinning your wheels with your ancestry search? Not sure how to move forward when roadblocks crop up? This instructive guide unravels the complex approach a seasoned genealogy expert uses in challenging cases. Regarldess of where you are on the research skill spectrum, this comprehensive handbook is geared towards those aiming higher. It details setting clear goals for investigations, constructing an analytical timeline review of findings and developing targeted location guides for future explorations. Beyond that, it assists researchers in crafting project plans; offering guidance on establishing proper source citations and maintaining detailed logs to organize searches effectively while also teaching users how to present their discoveries through well-written reports outlining possible directions for imminent studies - all aided by practical examples and beneficial templates.
Bookworms & Bloodlines: Wrapping Up Our Ancestral Adventure
Unearthing our past with family history research isn't a task reserved for historians alone; it is an exciting venture that you and I can undertake. The books we've discussed bring life to this idea by providing comprehensive guidance through the complex labyrinth of genealogical proof standard. They make us appreciate how each individual's journey contributes immensely in weaving intricate tapestries called 'family histories'. Mastering the process is like solving a thrilling puzzle - These resources simplify your expedition into ancestry, turbocharge your research process while infusing joy and excitement along every step of discovery! Whether beginner or seasoned veteran in genealogy pursuits--these guides are surefire companions on your exploration trail.
Discover Free Books That You'll Love!
Receive unbeatable book deals in your favorite fiction or non-fiction genres. Our daily emails are packed with new and bestselling authors you will love!








Latest Articles
The Best Books About Learning Chess
How Often Should You Read?
The Cork O'Connor Books in Order
Deal-icious Reads: The Best Books Like 'The Deal'
Our Comprehensive Guide to Chanel Cleeton Books in Order
The Best Historical Lesbian Romance Novels
Your Guide to Elizabeth George Books in Order
Our Curated List of the Best Books About Genealogy
Our Guide to the Best Fated Mate Romance Books
Our Complete List of Sally Rigby Books in Order