Sadie Robertson Books & Biography
Published: 23 February 2023
Written by Penny Somerset
Sadie Robertson books encourage the reader to embrace everything the world offers, find confidence, and promote a long time relationship with God and family. We've compiled the complete list of Sadie Robertson books in order of publication.
Who is Sadie Robertson?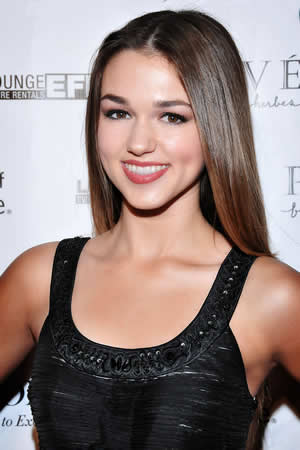 Sadie Robertson is a 20-year-old superstar, who has made her mark in the world of reality television and acting, inspiring others to "Live Original". After appearing in shows like A&E's Duck Dynasty and ABC's Dancing With The Stars at just 17 years of age, she has used her platform to promote positivity, self discovery and self-confidence among her peers. To further inspire her generation, Sadie created the 16-city Live Original Tour.
In addition to being an inspirational speaker, Sadie has also ventured into acting with roles in "God's Not Dead 2", "I'm Not Ashamed", and a Hallmark movie "Sun, Sand & Romance". She has also created a SADIE phone app, designed prom dresses with Sherri Hill, as well as jewelry with Glory Haus. Her most recent business venture includes partnering with Roma Boots to help "give poverty the boot" and traveling the world every year to serve children in need with One Squad.
Live Original: How the Duck Commander Teen Keeps It Real and Stays True to Her Values (2014)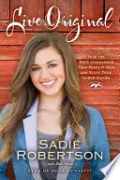 Sadie Robertson is the perfect example of a well-adjusted teenager. Growing up in the spotlight on Duck Dynasty, she has managed to keep her poise and respect for her family and friends. Everyone wants to know how the Robertsons have raised such confident, family-loving kids and with her book, "Live Original", Sadie shares the values instilled by her family which have made her into who she is today.
Sadie's list of principles leads to personal and spiritual growth as well as helping relationships with friends and family flourish. Think happy, be happy; dream big; shake the hate; do something - these are just a few of Sadie's guiding beliefs which she lives by each day.
Although Sadie is still a teenager, she has become an inspiring role model for other teens and parents alike. Her positive attitude, faith in God and love for her family all make Sadie Robertson an example of how to live an original life that is both culturally relevant and full of joy.
Live Original - Devotional (2016)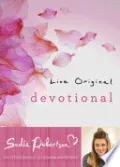 Are you a young woman looking for meaningful advice on how to stay true to your values and beliefs? Maybe you're searching for some encouragement to help you navigate the challenges of today's culture? Look no further than Sadie Robertson's inspiring devotional book, "Live Original".
Sadie, who is part of the third generation of the Robertson family, stars in A&E's Duck Dynasty and Dancing with the Stars, and has found success by staying true to her values and faith convictions. In this one-year devotional, Sadie offers powerful biblical principles that can be applied to everyday life. With five devotionals each week and two days "off" to give you flexibility, this book allows you to choose what works best for your lifestyle.
The topics covered in this devotional range from self-confidence and social media, through to bullying, dating, peer pressure and more. By turning to Sadie's words of encouragement and advice on how to stay positive even in a challenging world, you can learn how to live an original life full of meaning and purpose.
Life Just Got Real (2017)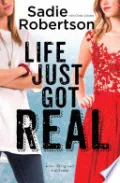 Sadie Robertson brings us a unique story about two teen girls with different backgrounds and lifestyles in her novel, "Life Just Got Real". Sixteen-year-old A.J. Smith is from the backwoods of Louisiana and has grown up repairing cars with her dad and hunting with her brothers. When her dad dies, her mom takes the family to Nashville where A.J. stands out because of her unique style and accent. Meanwhile, Kate Kelly is from the upper echelons of Nashville society, jetting around the world in luxury and wearing clothes from her mom's boutique.
When A.J.'s arrival causes a stir within Kate's social circle, especially with her brother Kaden, Kate finds herself swept up in the reality show "Real Life". But as the producers try to stir up drama between A.J. and Kate, things spin out of control on camera until disaster strikes - but it is A.J.'s help without question that helps restore things again. In order to form a friendship between these two very different girls they both need to live original and stay true to who God made them to be.
Live Fearless: A Call to Power, Passion, and Purpose (2018)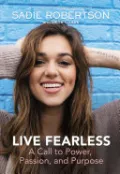 Are you ready to fight fear and live fearless? New York Times bestselling author Sadie Robertson is here to help! In her new book, "Live Fearless: A Call to Power, Passion, and Purpose," she takes her audience on a journey out of fear and into freedom. Focusing on the Bible and positive messages of acceptance, this book provides an interactive opportunity for readers to learn how to set aside their fears and become the joy-filled person God created them to be.
Each page of Live Fearless helps young Christian women on their path to self-care and confidence. Packed with inspirational stories, fun lists, and practical advice, this is the perfect gift for any teen or young adult. Throughout the book Sadie encourages readers with challenges, questions, and prayers - helping them overcome their anxieties and worries.
Sadie Robertson is a wholesome role model and enthusiastic voice for her generation. She reaches millions of teens, young adults, and parents through her books, social platforms, and podcast WHOA That's Good. With Live Fearless she offers an essential message: no matter who you are or what your fears are - freedom is available in Jesus! So give yourself the gift of courage today - it's time to fight your fears and live the life God offers!
Finding Freedom: An 8 Week Journey Recapturing Your Identity, Faith and Body Image (2019)

Ready to take the next step in your spiritual journey? Join Sadie Robertson and Alyssa Bethke on a 8-week mission of power, passion, and purpose! Through Bible study, exercises and prompt questions, find freedom and understanding as you become more vulnerable. Access the online streaming video series and a private Facebook group with the purchase of the workbook, where you'll also find the process Alyssa and Sadie used to discover their own freedom. And be sure to keep your own journal to reflect on your journey along the way!
Live: Remain Alive, Be Alive at a Specified Time, Have an Exciting or Fulfilling Life (2020)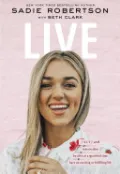 Are you ready to live the life God has given you? To be alive isn't enough - it's about truly living. Live celebrates what it is to be alive, and offers practical advice and biblical ways on finding confidence, dealing with haters, living in the moment and more - everything we need to start making choices that will lead us into the fullness of life rather than the emptiness of the world. With full-color photography and captivating design, teens and young adults will feel empowered and inspired by Robertson's own stories of faith and journey. Perfect as a gift or just because present, this book is a joyful encouragement to make wise decisions, always seek God's truth and make the most of every moment. So don't just be alive - truly live!
Live on Purpose: 100 Devotions for Letting Go of Fear and Following God (2021)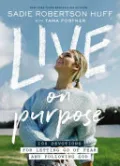 Are you ready to take the next step and make your life-changing dreams become a reality? Sadie Robertson's book Live on Purpose is here to help. A New York Times bestseller, this collection of 100 devotions encourages readers to live without fear and limitations while celebrating every moment in life.
Throughout the book, Robertson dives into stories of her own journey as well as practical guidance on how to overcome fear, anxiety, and comparison. She also provides tools for dreamers who want to make a big difference in the world by living with purpose. Live on Purpose offers an inspiring message that's perfect for any occasion, from holidays and graduation day to birthdays or faith anniversaries. So if you're ready to start living with confidence and enthusiasm, don't miss out on Live on Purpose!
Who Are You Following?: Pursuing Jesus in a Social-Media Obsessed World (2022)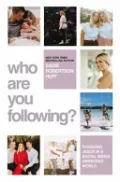 Are you looking for true love, purpose and fulfillment? In her best-selling book, "Who Are You Following? Pursuing Jesus in a Social-Media Obsessed World", Sadie Robertson Huff dives deep into exploring who we are allowing to influence our daily thoughts and actions. It's important to consider what you are really searching for when you decide to follow someone online; is it out of the desire to be like them, or simply just because of their celebrity status?
Sadie Robertson Huff offers advice on topics such as true motives for fame, comparing ourselves to others, how to respond to cancel culture and more. She brings her own experience as a social media influencer and scriptural truths together in this guide perfect for young Christians seeking to live life with bold faith in God. With Who Are You Following you can discover the love, purpose, and fulfillment that is found only in Jesus.
Who Are You Following: Guided Journal: Find the Love and Joy You've Been Looking For (2022)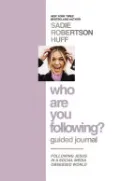 We all know the feeling of wanting to be known and loved in this world-it's a longing that we all have. That's why New York Times bestselling author Sadie Robertson Huff wants to help us refocus and remember to follow God before anyone else. Her book, Who Are You Following? Guided Journal, is the perfect companion resource that takes us on a journey to true joy and love.
This journal colorfully depicts the power of God's love through Scripture, personal stories from Sadie's experiences, prayer prompts, reflective questions and more. With this book you will discover how to go from being liked to being truly loved, what our true motives for fame are, how we can respond to cancel culture with God's limitless love as our foundation, and so much more. It's an opportunity to dive deep into who you're really following and how to ensure your focus is on God. When you follow Jesus first, His love will fill your whole existence with vibrant faith-and in the end, the purpose you've been looking for.
Discover Free Books That You'll Love!
Receive unbeatable book deals in your favorite fiction or non-fiction genres. Our daily emails are packed with new and bestselling authors you will love!








Latest Articles
From Playdates to Soulmates: Our Pick of the Best Single Mom Romance Books
The Ultimate List of Sarah J Maas Books in Order
Romance the Boredom Away: The Best Romance Books to Read When Bored!
The Comprehensive List of Colleen Hoover Books in Order
Unearthing the Best Sustainability Books: Must-Reads to Help You Make a Difference
The Complete List of Stone Barrington Books in Order of Publication
Sadie Robertson Books & Biography
The Comprehensive List of Lucy Foley Books
The Best New Crime Novels (and 8 Great Classics)
Green Books: Our Top 20 Environmental Books to Help You Make a Difference This Year