From Stakeouts to Makeouts: The Best Cop Romance Books
Published: 31 March 2023
Written by Penny Somerset
Hey there, fellow undercover romantics! Are you ready to fall in love with some of the most captivating tales that blend heart-pounding police action with swoon-worthy romance? It's time to cuff your heart to the pages, because you're in for an arresting experience!
In this post, we'll explore the best cop romance books that'll have you hot on the trail of passion and suspense. Get ready as we embark on a literary adventure filled irresistible chemistry with those who serve and protect.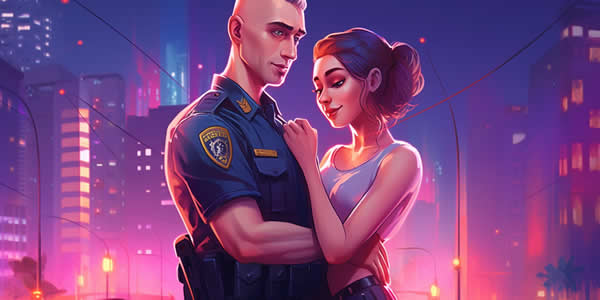 Partners in Crime (and Love): Our favorite cop romance books
Please note that Books.org participates in the Amazon Services LLC Associates Program. This means that when you click on our links to Amazon.com and make a purchase, we may receive a small commission at no extra cost to you. This helps us continue to provide high-quality book recommendations and reviews. We truly appreciate your support!
Reading You Your Rights: Our Pick of the Best Cop Romance Books
Here's our list of the best police romance novels. Enjoy!
Disturbing His Peace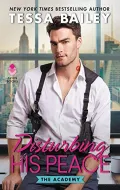 by Tessa Bailey
New York Times bestselling author Tessa Bailey is back with another sizzling romantic comedy in "Disturbing His Peace". This time, we meet Danika Silva, a police academy recruit who can't stand Lt. Greer Burns, her roommate's older brother. Sure, he's undeniably attractive, but his cold demeanor makes him impossible to like. All Danika wants is to graduate, forget her scowling superior, and move on, but when a mistake lands her on probation, she finds herself under Greer's watchful eye. Now, she has to call him daily, ride along in his patrol car, and resist the urge to climb into his arms.
Greer has always been focused and disciplined, never letting distractions get in the way. But lately, he can't stop thinking about Danika. He's been drawn to her since they first met, but her impulsive behavior is a risk he can't afford. Despite his better judgment, he finds himself replaying her voicemails and relishing her presence in his car. As they spend more time together, Danika begins to break through Greer's icy exterior. They both know that falling for each other could lead to trouble, but sometimes, bending the rules is just too tempting to resist.
Head Over Heels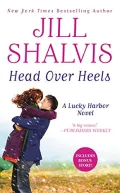 by Jill Shalvis
Chloe, unlike her soon-to-be-married sisters, thrives on adventure and isn't quite ready for a quiet life running the family's newly renovated inn. Her penchant for excitement and her complicated love life catch the eye of the town's irresistibly sexy sheriff who'd love to tame her rebellious ways. With the sheriff hot in pursuit, free spirited Chloe suddenly finds herself unable to make a wrong move without him close behind. His enigmatic grin and confident stride are enough to make any girl want to be locked up in his embrace.
Instead of running from the law, Chloe begins to imagine surrendering to it. But can this wild spirit find common ground with the straight-laced sheriff and create a lasting love? Or will her colorful past prevent her from finding the safe haven she's been searching for in a town named Lucky Harbor? As their worlds collide, Chloe must decide if she's ready to embrace a life that could be both exciting and secure with the one man who could truly capture her heart.
Night Shift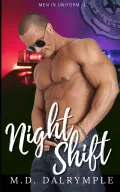 by M.D. Dalrymple
Matthew Danes, a dedicated police officer, finds himself consumed by the daily grind of his night shift job. Life's become a blur of drug busts and arrests, leaving him jaded and searching for something more. But everything changes when he stumbles upon the captivating Rosemarie and her loyal canine companion during an afternoon jog. Suddenly, Matthew's life shifts, and he realizes there's more to live for than just his work.
Rosemarie, a local wine bar owner, never expected to meet someone like Matthew. Their whirlwind romance quickly blossoms, and neither of them wants to hit the brakes. However, Matthew's dangerous job soon threatens their newfound happiness when a ruthless drug dealer seeks revenge for his arrest. Now, it's up to Matthew to protect Rosemarie from the violent criminal's clutches. Can he keep their love safe from the perils of his perilous profession? Dive into M.D. Dalrymple's "Night Shift" and join Matthew and Rosemarie in this high-stakes, action-packed romance that's part of the Men in Uniform Series. Be warned, though - this steamy, real-world cop romance isn't for the faint of heart!
Bullets & Bonfires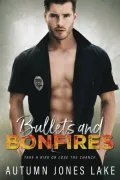 by Autumn Jones Lake
Brianna Avery, a grad student recovering from a tumultuous past, returns to her childhood home for some much-needed rest and relaxation. With her abusive ex behind bars, she looks forward to a peaceful summer before heading back to school. However, her protective brother has other plans and enlists the help of the one person who's always driven her crazy: their hometown's sexy sheriff, Liam Hollister. Although Liam has always had feelings for Brianna, he's never acted on them in order to preserve his friendship with her brother.
Now, as the deputy sheriff, Liam finds himself caught between his duty to protect Brianna and his growing attraction to her. As they spend more time alone together, their undeniable chemistry becomes harder to ignore. Both are forced to confront old emotions and hurts as they navigate their way through a long, hot summer. With each passing day, they must decide whether to take a risk on love or lose the chance at something special forever. Join Brianna and Liam in Autumn Jones Lake's "Bullets & Bonfires" as they face the challenges of love, loyalty, and desire.
Shelter For Blyth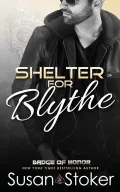 by Susan Stoker
Struggling to survive on San Antonio's unforgiving streets, Blythe Coopman never thought she'd find herself in such a situation. Amidst her challenges, she accidentally ends up with a local firefighter's phone, sparking an unexpected connection. Sawyer "Squirrel" McClay, the firefighter, decides to keep in touch with Blythe through calls and texts, which soon become the highlights of her life. However, she hesitates to accept his help, fearing she'll only be a burden.
When a vicious attack lands Blythe in the hospital, Squirrel steps in, determined to help her no matter what. As their bond grows, so does Squirrel's dedication to keeping her safe and happy, even as they face their personal insecurities. Yet, escaping the dangers of their past isn't easy, and they soon find that old threats still linger, ready to jeopardize their newfound love and happiness. Together, they must stand strong against these obstacles, fighting for the life they both deserve.
Cop Daddy Next Door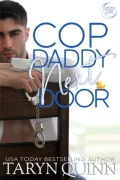 by Taryn Quinn
In the charming town of Crescent Cove, a former bad boy, Maverick McNeill, turns over a new leaf as he joins the local police force. Eager to prove himself to his colleagues and law enforcement family, including his older brother Brady, Maverick is focused on earning their respect. However, his determination is tested when he meets his irresistibly attractive yet fiery new sister-in-law and next-door neighbor.
Their undeniable chemistry tempts Maverick to venture into a daring and unexpected night of wild, naked fun, resulting in an almost-public scandal. Now, as they navigate the consequences of their impulsive actions, including an impending baby, the two must decide if they're ready to face the challenges that lie ahead. Follow Maverick's journey as the seductive cop adapts to his new role and finds himself ready to use his handcuffs, if necessary.
Law Man
by Kirsten Ashley
When sweet and introverted Mara Hanover finds herself smitten with her charming neighbor, police detective Mitch Lawson, she believes their differing backgrounds make a relationship impossible. However, a leaky faucet brings Mitch to her rescue, and their once-platonic connection quickly heats up. As they grow closer, a troubling call from her cousin's children pulls Mara back into her difficult past. Now, it's up to the passionate lawman to help Mara overcome her history and embrace a future together.
Good Gone Bad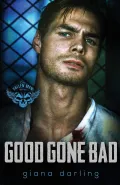 by Giana Darling
Best-selling author Giana Darling brings us a thrilling, forbidden romance between a dedicated cop and the MC princess he's desired for years. Despite committing a shocking act of violence, our protagonist believes that one action doesn't define a person. Rather than turning to her family or friends for help, she reaches out to Lionel Danner - a police officer famous for dismantling the Nightstalkers MC and long-time rival of her father. Their connection, once severed, now has the potential to change both their lives forever.
Although Lionel despises everything she represents, he's inexplicably drawn back into her world after her surprising call for help. As they navigate the murky waters of their relationship, they discover that one bold act may not define them, but the choices they make in its aftermath certainly will. In this gripping tale of love and redemption, both characters must decide whether their connection is strong enough to transcend their pasts and forge an entirely new future together.
Bring Me Back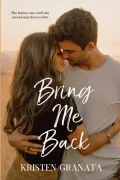 by Kristen Granata
In Kristen Granata's captivating romance, we explore the themes of hope, mental health, and the transformative power of love. Phoenix Bridges, a survivor of a suicide attempt, is granted a second chance at life that she's uncertain how to navigate. After her release from a psychiatric treatment center, she retreats to her family's old shore house in New Jersey for a fresh start, expecting the town to be quiet and uneventful during the winter season.
However, she doesn't account for the presence of her striking, introspective cop neighbor, James Russo. Haunted by his inability to save his mother years ago, James devotes himself to helping others, and upon witnessing Phoenix's vulnerability, becomes her steadfast support. As their bond deepens and they confide in each other about their painful pasts, sparks fly but they find themselves confronted with unforeseen danger. Now, Phoenix must decide whether to fight for a life she once doubted, while James faces the possibility of losing the one he loves once more.
Riley Thorn and the Dead Guy Next Door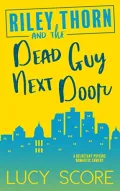 by Lucy Score
Riley Thorn's life has been anything but ordinary - divorced, broke, and living with a group of elderly roommates, while trying her best to ignore the hallucinations her tarot-card reading mom insists are clairvoyant visions. As if things couldn't get more complicated, a ridiculously attractive ex-cop private investigator, Nick Santiago, arrives on her doorstep in search of a neighbor who ends up murdered.
Nick, a charming rebel who's not one for commitment, finds himself drawn to Riley, who has become a prime suspect in the case. Eager to solve the mystery (and flex his heroic muscles), Nick offers his assistance to clear her name. Together, they must identify the killer while dodging a by-the-book detective with a grudge, and navigating the sudden appearance of a stranger claiming to help Riley sharpen her psychic abilities. All the while, they must stay one step ahead of the murderer who sees Riley as a loose end that needs tying up.
Hometown Love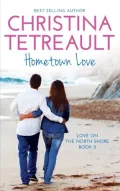 by Christina Tetreault
Love wasn't on the agenda for either of them, but fate had other plans. Jessie Quinn, North Salem's own girl-next-door, has a hidden past of emotional wounds left by an ex-boyfriend. As a single dad and FBI agent, Mack Ellsbury comes back to town for family, not romance. Yet, when Jessie reenters his life, Mack sees beyond the shy girl he once tutored in high school and falls for the strong woman she's become. His love helps Jessie heal from her past, but just as things are looking up, Mack's ex-wife reappears, seeking reconciliation and putting their blossoming relationship at risk.
Disorderly Conduct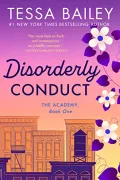 by Tessa Bailey
When police academy cadet Charlie Burns meets the stunning Ever Carmichael in a bar, he's thrilled to hear her say she's not looking for anything serious. Their no-strings-attached fling is a dream come true for Charlie, who's too focused on following his family's legacy to even consider settling down. However, when Ever decides to call it quits, Charlie suddenly realizes his world isn't quite the same without her.
Determined to take control of her love life, Ever sets out to find something more meaningful than her casual encounters with Charlie. As she dives into the ruthless NYC dating scene, Charlie keeps popping up everywhere, making it hard to move on. He's struggling with the thought of Ever being with someone else, and he's willing to do whatever it takes - even resorting to date sabotage - to win her back. But is it too late for Charlie to realize the value of the connection he had with Ever? Full of humor and sharp wit, we guarantee you'll love "Disorderly Conduct"!
Arresting Attractions: Our Farewell to the Best Cop Romance Books
So, dear readers, we've reached the end of our list, and you've got probable cause to fall head over heels for these tantalizing police romance books. Get ready to be swept off your feet by strong-willed, courageous law enforcement officers and the women who steal their hearts. These stories of chance romance bring excitement, passion, and even a touch of danger to the table, making them irresistible page-turners that you simply can't put down.
Frequently Asked Questions
What Are Cop Romance Books?
Picture this: a female protagonist, navigating the highs and lows of life, unexpectedly finds herself drawn to a man with a badge. Welcome to the realm of cop romance books, where handcuffs aren't just for catching criminals! But don't expect heart-pounding car chases or intense shootouts in these pages; these novels focus on the emotional rollercoaster of falling for a law enforcement officer. The thrilling dance of flirtation, trust, and the unique challenges that come with dating someone who's sworn to protect and serve create a mesmerizing backdrop for these love stories.
What sets cop romance books apart is their blend of drama, passion, and yes, a dash of humor, woven together to create a narrative that keeps readers turning pages long past bedtime. Our hero - a brave, dedicated officer - captivates the female lead, who finds herself learning the ropes of the unpredictable world of policing alongside her new love interest. As the couple tackles shared experiences and personal growth, these novels highlight the trials and tribulations of a cop's life, while showcasing the unbreakable bonds that form in the process. At their core, these stories celebrate the tenacity of love and the extraordinary strength of the human spirit.
Discover Free Books That You'll Love!
Receive unbeatable book deals in your favorite fiction or non-fiction genres. Our daily emails are packed with new and bestselling authors you will love!








Latest Articles
Our Complete Guide to Emily Henry Books in Order
Dianne Freeman Books in Order: Your Guide to the Countess of Harleigh Mystery Series
Romance Books About Pirates: Plundering the Booty of Love
The Verdict Is In: Our List of Riveting Legal Thriller Books
YA Must-Reads: Highlighting the Best of Young Adult Literature
Heartthrobs in Uniform: Discovering the Best Navy SEAL Romance Books
From Roommates to Soulmates: The Best Roommate Romance Books
The Maisie Dobbs Books in Order
The Best Medieval Romance Novels
Miss Marple Books in Order: A Whodunit Guide to the Classic Series