The Complete List of Jack Carr Books in Order
Published: 25 March 2023
Written by Chris Beach
Who is Jack Carr? His History and Biography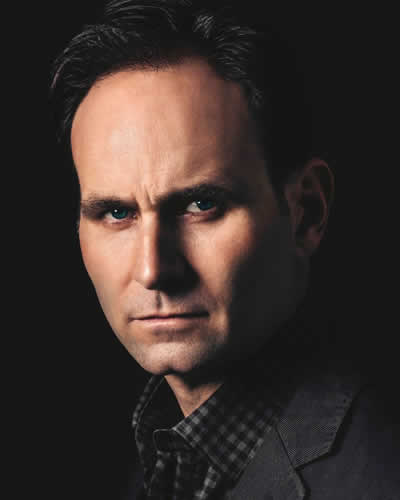 Jack Carr's 20-year experience as a Navy SEAL spanned a range of roles, from an enlisted sniper to taking charge as a Task Unit Commander in southern Iraq during the challenging withdrawal of U.S. forces. This journey lead him from Iraq and Afghanistan as leader of assault and sniper teams, to the Philippines where he honed his counterinsurgency skills as a platoon commander. Now retired since 2016, Jack enjoys a quieter life in Park City, Utah, with his wife and three kids.
But Jack's adventures didn't end with his military service. He's also a bestselling thriller author and a passionate outdoorsman. Drawing from his extensive background in special operations, Jack's gripping novels transport readers into the heart of the action. When he's not penning page-turners, you'll likely find Jack exploring the great outdoors, fully embracing the spirit of adventure that has defined his life.
Please note that Books.org participates in the Amazon Services LLC Associates Program. This means that when you click on our links to Amazon.com and make a purchase, we may receive a small commission at no extra cost to you. This helps us continue to provide high-quality book recommendations and reviews. We truly appreciate your support!
Jack Carr Books in Order
Want to know the order Jack Carr's books were published? We've compiled the complete list of Jack Carr's books in order of publication with a summary of each.
The Terminal List (2018)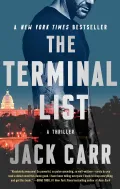 In "The Terminal," a heart-pounding political thriller, we follow a Navy SEAL, James Reece, who learns that the US government is responsible for his team's tragic deaths. Devastated by the loss of his loved ones on the day he returns home, Reece realizes this isn't the work of foreign adversaries but a dark conspiracy reaching the highest ranks of government. Now alone and unbound by the military's hierarchy, Reece channels his years of combat experience into avenging his family and teammates.
With a relentless pace and gripping suspense, he fearlessly targets the powerful elite, unconcerned with rules or laws. Praised for its superb plotting, rich characters, and satisfying conclusion, "The Terminal" is a must-read for fans of Vince Flynn, Brad Thor, and Nelson DeMille.
True Believer (2019)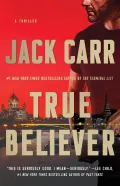 In "True Believer," a thrilling novel by Jack Carr, the Western world is shaken by a series of devastating terrorist attacks during the holiday season, orchestrated by a mysterious former Iraqi commando. Enter James Reece, America's most-wanted domestic terrorist, who might just be the key to stopping the violence. Hidden deep in Mozambique and protected by his estranged best friend's family, Reece is soon discovered and reluctantly recruited by the CIA in exchange for a presidential pardon and immunity for his friends.
As Reece travels the world hunting down terrorist leaders, he unravels a vast geopolitical conspiracy, exposes a treacherous CIA officer, and thwarts a sinister assassination plot with global consequences. "True Believer" is a fast-paced, action-packed ride perfect for fans of Vince Flynn, Brad Thor, and Daniel Silva.
Savage Son (2020)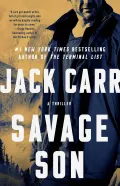 In the thrilling third installment of Jack Carr's Terminal List series, "Savage Son," former Navy SEAL James Reece faces his most dangerous mission yet - taking on the Russian mafia. As a woman flees for her life deep in Siberia, pursued by a man with deadly secrets, a treacherous CIA officer finds refuge with the mafia and plots to eliminate Reece. Meanwhile, half a world away, Reece is recovering from brain surgery in the Montana wilderness, supported by investigative journalist Katie Buranek and his longtime SEAL teammate Raife Hastings. Unaware that the Russian mafia is closing in on him, Reece becomes entangled in a lethal game of cat and mouse. "Savage Son" is Jack Carr's most intense and pulse-pounding thriller to date, delving into the darkest depths of human nature through the eyes of a man who has experienced both its best and worst aspects.
The Devil's Hand (2021)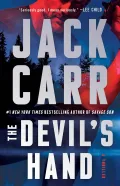 Join James Reece, a former Navy SEAL, as he embarks on a top-secret CIA mission of retribution twenty years in the making. Since the September 11 attacks, the enemy has been patient, learning, and adapting, ready to strike again. With a new president offering hope to a country weary of war, there is a sense of relief. But, the president has a secret, and a regional superpower struggles with sanctions, spawning ruthless assassins.
As a result, the Supreme Leader puts a plan in motion to defeat the most powerful nation on earth. Meanwhile, a young PhD student gains access to a bioweapon, assigned a mission that will bring his adopted homeland to its knees. Get ready for a gripping thriller that explores the dark underbelly of international conflict and espionage.
In the Blood (2022)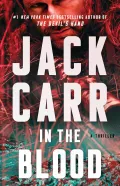 Hold on to your seats, because the epic Terminal List series is back with James Reece taking on a worldwide quest for payback! Picture this: a woman assassin in Burkina Faso successfully eliminates her target for Israel, only to have her flight blown to pieces moments later.
Far away, ex-Navy SEAL sniper James Reece spots her face among the victims on TV, remembering her as a Mossad operative linked to the CIA during his time in Iraq. He never expected to see her again! Joining forces with allies old and new from around the globe, Reece is on a mission to hunt down her murderer. But watch out, James, because you might just be stepping right into a dangerous trap!
Only the Dead (2023)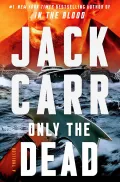 Get ready for a thrilling rollercoaster of a story in Jack Carr's "Only the Dead"! Let's go back to 1980, when a new congressman gets brutally shot in Rhode Island, setting off a chain reaction that's still shaking things up more than 40 years later. Now, with the world on the verge of war and the US struggling with inflation, division, and jaw-dropping assassinations, a shadowy group of global bigwigs think they're about to seize power.
They're convinced they've neutralized the last threat - a dangerously skilled man in solitary confinement. But boy, are they mistaken! From Wall Street to Washington, DC, and even Moscow, the past has a sneaky way of making a comeback. Undeterred by the odds, James Reece is on a generations-spanning quest. And let's just say, when this former SEAL grabs his tomahawk and sniper rifle, his enemies better watch out - no one's off-limits!
Frequently Asked Questions
Do You Need to Read Jack Carr Books in Order?
While each novel is thrilling on its own, following the chronology of the series allows for a deeper understanding and appreciation of James Reece's character development and the overarching plotlines. However, if you're the type to dive in headfirst and enjoy the excitement of a gripping thriller without worrying too much about the backstory, you'll still find Carr's books captivating. Ultimately, it's up to you - whether you read them in order or mix things up, the thrilling adventures of James Reece won't disappoint!
Who is James Reece?
James Reece, a former Navy SEAL sniper, confronts tragedy when his team is attacked and wiped out during their mission to apprehend terrorist Jahar Kahani in Syria. This disastrous incident occurs due to misleading information provided to his team. Upon his return home, the official account blames a team member's panic for their position being exposed, but Reece's recollection differs. He's convinced the audio recording of the event has been tampered with and insists it was an SDF soldier who accidentally fired. Adding to the confusion, Reece is informed his close friend, Ernest "Boozer" Willingham, took his own life - a claim that conflicts with his own memory. The situation worsens when Reece escapes an assassination attempt during a brain scan for an MRI, only to discover his wife and daughter have been brutally killed.
Driven to find the truth and exact revenge, Reece compiles a "terminal list" of those he holds accountable for ruining his life, using the reverse side of a drawing by his daughter. As he sets out on his quest for vengeance, he receives support from his remaining military friends, Liz Riley and Ben Edwards, as well as an inquisitive reporter, Katie Buranek. Together, they endeavor to untangle the complex conspiracy and ensure the orchestrators face the consequences.
How Many James Reece Books Are There?
There are curently five James Reece novels, with a sixth expected.
When is the Next James Reece Series Book Being Released?
Jack Carr's next novel, "Only The Dead" is expected to be released in spring of 2023. You can order Jack Carr books here.
Is There a TV Show Adaptation of The Terminal List?
When New York Times bestselling author Jack Carr's novel, The Terminal List, first hit bookshelves in 2018, it quickly rose to the top of the New York Times bestsellers list. Fans were eager to get their hands on the story of James Reece, a decorated Navy SEAL who returns home after an ambush overseas leaves him with questions and trauma to unravel. Now, people are wondering: Is there a TV show adaptation of The Terminal List?
The answer is yes! In July 2022, the Amazon Prime series debuted starring Chris Pratt as James Reece alongside Constance Wu, Taylor Kitsch, Riley Keough and Arlo Mertz. As fans eagerly tuned in to follow Reece's journey through war-torn memories and conspiracies, news also broke that season 2 had already been greenlit. Shooting began in February 2023 for this anticipated second season.
The Terminal List has become something of an adrenaline-packed cult classic for readers over the last few years - so it's no surprise that viewers have taken to this adaptation just as quickly and passionately. Between Chris Pratt's star power and Jack Carr's nail-biting plot twists, this series is sure to keep you hooked from start to finish!
Discover Free Books That You'll Love!
Receive unbeatable book deals in your favorite fiction or non-fiction genres. Our daily emails are packed with new and bestselling authors you will love!








Latest Articles
The Best Books About Learning Chess
How Often Should You Read?
The Cork O'Connor Books in Order
Deal-icious Reads: The Best Books Like 'The Deal'
Our Comprehensive Guide to Chanel Cleeton Books in Order
The Best Historical Lesbian Romance Novels
Your Guide to Elizabeth George Books in Order
Our Curated List of the Best Books About Genealogy
Our Guide to the Best Fated Mate Romance Books
Our Complete List of Sally Rigby Books in Order