Books.org Blog
Book Lovers
From cozy libraries and rainy days spent inside reading to exploring new authors and genres, there's something magical about being surrounded by literature at all times. Whether you prefer large hardcover books, paperbacks, or eBooks, there is something special about having a story in your hands.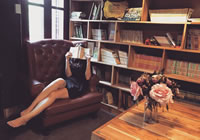 For a lot of book fanatics, it's about more than the words. Reading is a whole activity - a hobby, or even a way of life. Avid readers value setting aside real chunks of time, finding great places to read and - crucially - enjoying a treat or indulgence while turning those pages.
Ways to relax while reading
Discover Free Books That You'll Love!
Receive unbeatable book deals in your favorite fiction or non-fiction genres. Our daily emails are packed with new and bestselling authors you will love!